Subsidies for Family Homes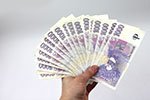 Subsidies in the amount of 35 000 CZK for solar thermal systems for DHW heating or 50 000 CZK for solar thermal systems for backup space heating can be granted from the New Green Savings Programme for solar thermal systems. Heat pump installation into family homes is subsidized by two programs – NGS programme when an electric boiler is replaced, and "boiler" subsidy up to 127 500 CZK when a solid-fuel boiler is replaced. Heat Recovery Ventilation systems are subsidized in the NGS programme with a sum up to 100 000 CZK.
If you are interested in receiving our offer for a hot water heating system or space heating from renewable heat sources, or heat recovery ventilation systems, please kindly fill in this form.
If you already have a design and wish to have the subsidy application documentation prepared, please click here.