Mostar Hospital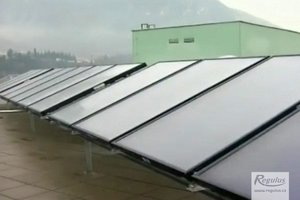 | | |
| --- | --- |
| Reference type | Solar thermal system |
| Construction period | January 2017 |
| Location | Mostar, BiH |
For Mostar Hospital we prepared design documents and acted as a supplier of technology and measurement/control system. The project was realized by AQUA - GAS s.r.o.
The aim was to increase the efficiency of DHW heating in Dr. Safet Mujić Hospital in BiH. The original boiler room operated on heating oil and gas. Regulus supplied and installed solar collectors for DHW heating – 104 KPS11+ solar collectors, R0BC 3000 hot water storage tanks, piping, circulation pumps and IR 30 based control system. System visualisation should be the next step. The entire system is connected to existing hot water piping for the new and old hospital buildings. The solar collectors are installed on the new Gynaecology and Obstetrics building.
The project was covered by both local newspapers and federal television.