TSV8 Load Valve
This Load valve for solid fuel boilers blends cool return water from a heating system or thermal store with hot water from the boiler flow. This way the returning water and boiler heat transfer surfaces are kept at a temperature that will not allow condensation to occur. TSV8 Load valve shall be balanced manually, using a balancing valve on the bypass pipe.
| Code | Item | Availability |
| --- | --- | --- |
| 11819 | TSV8 Load Valve, 65°C, ATMOS | in stock |
| 16061 | TSV8 Load Valve, 72°C, ATMOS | in stock |
Download
Description
Ventil TSV reguluje průtok vstupem A a v krajní poloze jej těsně uzavírá. Vstup B je vždy otevřen bez omezení. Nemá automatické uzavírání by passu, proto není teplota zpátečky ventilem limitována a její teplota může narůstat od jmenovité teploty výše bez omezení (viz graf) dle nastavení manuálního vyvažovacího ventilu v by-passu ventilu. Vyšší teplota je příznivější pro provoz kotle Atmos, může však docházet i k přehřívání kotle. Pro správnou funkci ventilu TSV je důležité správné nastavení vyvažovacího ventilu.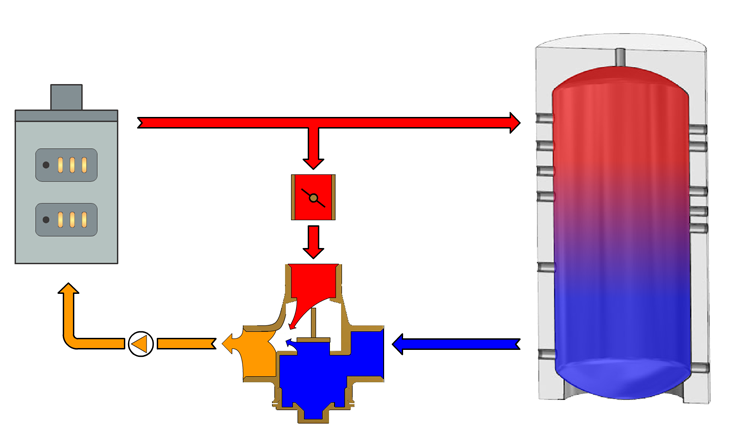 Graf růstu teploty vody na vstupu do kotle: